Kayleen Campbell faces a lot of tough days as a certified veterinary technician at an emergency animal hospital. But she makes sure to find joy wherever she can — usually in the sweet and funny antics of her patients.
Most of the dogs and cats she cares for are in a vulnerable state, but that doesn't mean they are any less demanding of attention and love. This was especially apparent when Campbell was called in to assist with a blood draw during a hectic day.
"We have to hold off the jugular vein after drawing blood, but this sweet old girl thought I was just there for the hugs," Campbell wrote on Reddit. "This is why I love my job."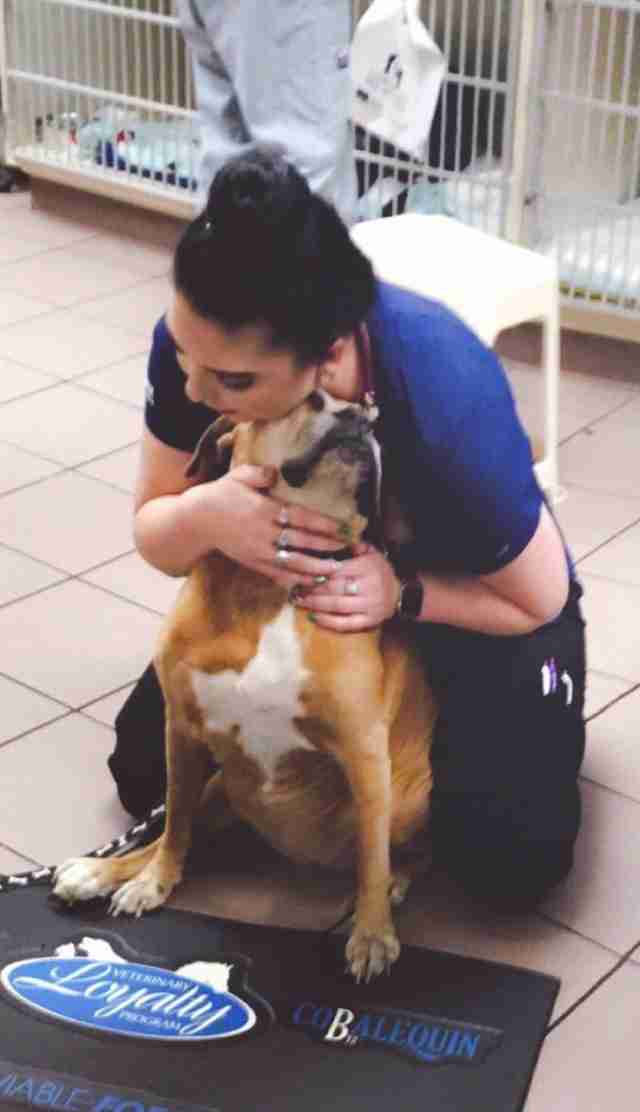 As Campbell explained, the neck is a preferred site as it allows vets to draw blood quickly without sacrificing the veins in the front legs, which may be needed for IV catheters. However, the pup, who was between 12 and 13 years old, didn't quite understand why Campbell was holding her so closely — and she didn't seem to care, either.
"Holding the vein off usually only takes a short amount of time, but this sweet old girl kept leaning back into me and thought I was just there to give her love and attention, which I was happy to give," Campbell told The Dodo. "I wouldn't say this is a common reaction mostly because a lot of dogs don't want to sit still for a prolonged period of time in a place where so much is going on."
The attention-seeking dog distracted Campbell long enough for her coworker to secretly snap a few photos of the sweet interaction. But this "hug" was by no means an isolated incident — Campbell and her colleagues are always happy snuggle any animal in need.
"Of course some are nervous or scared, in which case I try to be as respectful of their needs as possible," Campbell said. "But when I see friendly, happy dogs or purring cats, I always make time to give them some attention and love."
While being able to pet all the sweet animals she could want is great, the absolute best part of Campbell's job is helping her patients feel better. "I love being part of the diagnostics process to figure out what is going on with a sick pet," Campbell said. "So that I can then be part of the treatment process to get them on the road to recovery."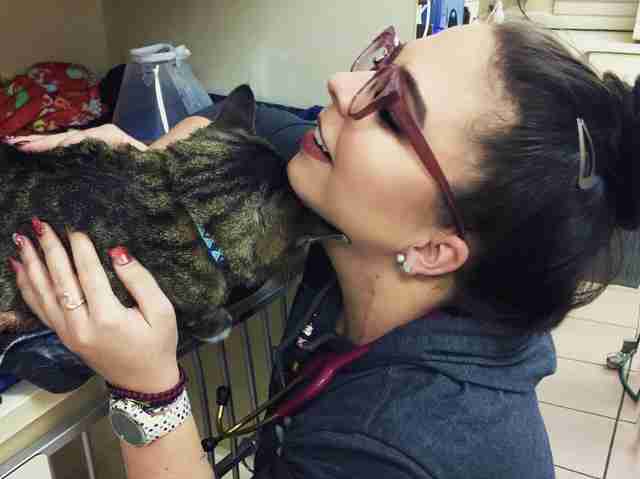 And even though her days are spent surrounded by animals, the delight in meeting each new patient has yet to wear off. Campbell added: "I still get irrationally excited when I see a kitten."
source: www.thedodo.com
CLICK NEXT BELOW TO SEE MORE
advertisement

Suggested Articles
9 dog treats that are surprisingly dangerous
Can You Take a Puppy Home at 6 Weeks?
How long can a dog go without water?